TotalSkin Solution treating Every Layer of the Skin
 TotalSkin Solution has become the go-to treatment for dramatic skin tightening and skin rejuvenation. This new protocol combines the two best-in-class technologies that treat skin from top to bottom.
The Genius RF Microneedling device delivers energy to stimulate production of collagen and elastin for lifting, tightening, improving scars, skin texture, wrinkles and laxity on the face and neck. The LaseMD laser achieves fast improvement in pigment and texture and rebuilds glowing, healthy skin. Both are performed on the same day!
Genius RF Skin Tightening
The Genius is the world's leading RF Microneedling device. It combines the benefits of microneedling with radiofrequency energy. Ultrafine needles target the skin at different depths while smart technology measures the precise energy delivered to each layer kickstarting your body's regeneration of collagen and elastin. Genius delivers a long term solution resulting in thicker, tighter and smoother skin with minimal discomfort, little downtime and maximum results. The treatment is mostly used on the face and neck, but can also be used on the chest, abdomen, arms and other areas with great results.
The next step is the LaseMD laser:
LaseMD Skin Perfecting Laser
LaseMD fractional thulium laser uses heat to trigger a healing response that stimulates the body's natural collagen production to restore healthier, younger-looking skin. The laser gently resurfaces the skin while removing superficial pigment and sun damage. Additional benefits include minimizing pores, reducing lines and smoothing the skin.
LaseMD is also a great stand alone treatment. It is mostly used on the face, neck and chest as part of a long-term skin care regimen however it can also treat larger areas exposed by the sun such as arms and legs. It is also a beauty boost before big events. Many patients have it done two weeks before an event. Patients love the quick results of dewy, fresh skin. More on LaseMD.
With the TotalSkin Solution we are able to treat all layers of the skin, all skin types, at any time of the year. With little to no downtime Genius and LaseMD are the best combination to keep your skin looking beautiful, young and natural.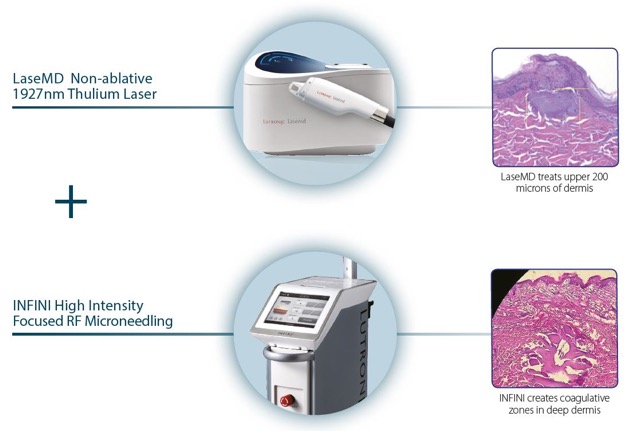 What to Expect from TotalSkin Treatment
Plan on spending two hours at the clinic. Customized settings based on your specific skin conditions will be selected. Your skin will be prepped with a thin layer of numbing cream which will be left on for 60 minutes making the treatment tolerable, though some heat and pressure will be felt. After your treatment is completed we recommend our healing peptide mask to enhance recovery time. Treatments take 60 minutes to complete, depending on the area.
You will experience some redness immediately after like a sunburn. The redness should subside by the following day and you can apply makeup 24 hours later. Downtime is minimal. Patients can expect pink, slightly irritated skin with mild swelling in the area for the first few days however each patient's healing experience varies.
It takes time for the body to produce new collagen and elastin, so those results are not immediate. Patients may see initial improvements from the Genius in skin firmness and texture within the first few months but allow 6 months for maximum results. LaseMD results are typically seen about 6 – 10 days after treatment and will also continue to improve for up to 6 months as collagen levels increase. The number of sessions needed will depend on your specific goals and your skin's current condition.
Because we want your skin looking glowing when you leave, you will also receive complimentary PRP applied topically to your skin, a hydrating coconut mask and take home a post-care AlumierMD procedure kit. 
How to Prepare
Discontinue any Glycolic Acid, Salicylic Acid, Retin A or scrubs for one week prior.

Four days before your appointment avoid alcohol, aspirin, ibuprofen, vitamin E or fish oil (any omega-3). These blood thinners can cause bruising and bleeding.

Increase your water consumption to 8 – 12 glasses the day before treatment. The energy reacts with the water in the skin. Being hydrated will produce a better result.

Avoid stimulants like caffeine day of before your treatment as you may be extra sensitive.

Cold Sores – If you are prone to cold sores, an antiviral medication like Valtrex is recommended prior to treatment. Delivery of heat into the skin can trigger flare-ups.
Benefits of TotalSkin Ultimate Tightening Treatment
The TotalSkin Solution can provide numerous improvements to the health and appearance of the skin. Natural but noticeable results that leave you looking revitalized include:
Tightens skin for a younger, more toned appearance

Improves jawline definition

Provides lift to the eye area for a refreshed look

Reveal a smoother, softer texture

Removes and reduces wrinkles and fine lines

Brightens skin and reduces sun damage

Minimize pores
Find out more about the
Lutronic Genius
See before and after images