Dr. Khalid Mahmud
Founder / Former Physician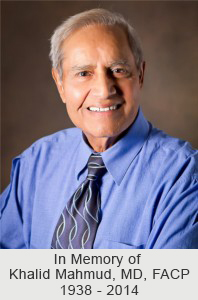 Innovative Directions in Health is Minnesota's first anti-aging practice founded by Dr. Khalid Mahmud. He practiced Preventive Medicine and Bio-Identical Hormone Replacement Therapy from 2002 – 2014 delivering innovative and cutting edge medicine that inspired colleagues and changed the lives of his patients.
With Board Certifications in Oncology, Hematology, Internal Medicine and Anti-Aging Medicine, Khalid spent his career in the pursuit of healing and good health. Some of Dr. Mahmud's most esteemed accomplishments include former Chief of Medicine and Medical Director of Oncology at North Memorial Medical Center in Minneapolis; first Medical Director of the North Memorial Cancer Center (Hubert H. Humphrey Cancer Center) and several Board of Director positions.
Dr. Mahmud has authored numerous articles in the fields of health and bio-identical hormone therapy, spoke at numerous conferences as well as appeared on local and national television programs. He also was the author of the book, "Keeping aBreast: Ways to PREVENT Breast Cancer".
Dr. Mahmud was widely recognized as a visionary and innovator throughout his career. His quest to generate health and vitality is still transpired through the patient care given at Innovative Directions in Health.